NGO Donations| If you can't volunteer, Donate| It makes Difference
Being an NGO, Mother's concern responds all around to tackle the issue of acute shortage of food, NGO donation sharing, and everyday convenience across the geographical boundaries of our country. Cases of the Omicron variant in India, the third wave of Corona virus infections, are rising rapidly and investigations have begun in most urban areas of India over the weekend, as states try to control the spread of cunning COVID-19 by forcing the end of the weekends and lockdown.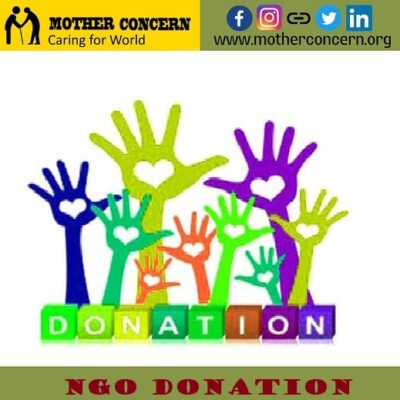 The wellbeing conveniences and deficiency of nourishment for individuals, who are dealing with day by day compensation, in our country for their living aren't adequate to meet the necessities of this emergency, passing on our country to confront the hotness of basic deficiencies.
Our NGO for children, mother concern
With this in mind, our NGO for children, mother concern, is serving the oppressed by providing access to a suitable charity and food safety in India's underrepresented network. What's the best gift you've ever received? Different persons may have different responses to this inquiry, yet I like to think its life and most valuable gift.
Would you be able to contemplate an existence without food? No, I don't think so; life cannot be imagined without food. We want the fight against the third wave of Covid along with proper eating and food to live. Being the NGO, in India, mother concern, we are coordinating food transport camps, clothing movement camps, and accommodation appropriation camps in the oppressed areas of many urban communities to serve the destitute persons who require food.We at Mother Concern are grateful to our volunteers as well as generous philanthropists. Our unmatched mission of tackling the issue of food shortage in our country has gained momentum, as people are standing together in this pandemic and not helping through gifts. For which we need help in the form of NGO donation.
We are taking care of the underprivileged people by following the standards through the gifts received for the care of the helpless families. Particularly in provincial and ghetto areas where individuals are economically weak, of great importance to guarantee that there should be no death due to continued lack of food, is to create invincibility for individuals who lose their status. There are a lot of children who lost their life due to Malnutrition and we are not ready to lose more valuable lives from hunger. We help them from the NGO donation, and thankfully there are people in our society who are keen to help these children and families.
We are overcoming any issues between the givers and those who need food. Through various food movement camps, we can overcome the shortage of food for the families living below the needy line in our country and make it accessible to everyone, irrespective of economic status, shading, rank, etc. Paying attention, through gifts, our principle aim is to kill the craving and serve the people in this hour of emergency.
Mother is concerned, keen to help these underprivileged people and their families, but for this, we surely need your support doesn't matter big or small. But it will impact the lives of these people.
Be with us and support us. Do share our work on your social media sites like Facebook, Twitter, INSTAGRAM, and LinkedIn.