NGO for Single Mothers | Is It Easy To Be a Single Mother in Society?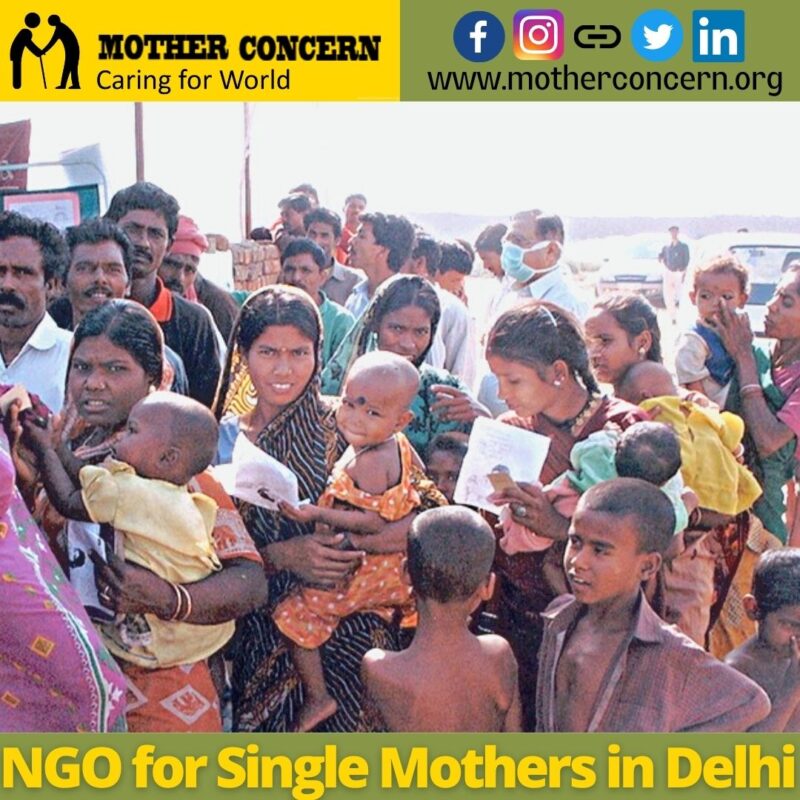 Mother Concern is an NGO for single mothers in our society. Parenting itself is a big task to perform. It requires a lot of patience and mental and financial stability. One cannot be successful if they do not have all these things. They are the key to successful parenting. Every parent works hard to fulfill all dreams and desires of their children. But, think of a situation how hard this becomes for a single parent to raise their child alone. Fulfilling all the needs all alone is difficult. Performing the responsibilities of both mother and father is not easy at all.
Today in this blog, we will understand the aspect of single mothers in our society. Being a single mother this becomes difficult to give time to her children. She has to go outside to earn money and do all household work. Performing both the responsibility alone needs time and patience. NGO for Single Mothers helps these mothers by providing daily food to their children. Our NGO distributes free food in slum areas near Delhi/NCR regularly. So, every mother can freely go outside and can earn at least for their survival.
Problems faced by single mothers in our society:-
Lack of safety net
Lack of safety for the children affects the most single mothers. Women who are single mothers leave their kids behind while going for their jobs. Due to this sometimes their children get abused and suffer a lot. For a single mother becoming financially independent is the most difficult task. They have to earn bread for their family by taking care of the house as well. Being a single mother sometimes drains you emotionally and stressfully.
Judged by the society
In a country like India, single mothers get judged by society. Single mothers are treated differently than the women who have husbands with them. Sometimes, you must have heard or watched that women who live alone get to listen to illicit words. It is important to change the mindset of society to not judge single mothers. Considering single mothers as weak is a mistake rather than giving them respect.
Lack of time
Changing family functions, babysitting and chores are hardly the much-anticipated 'personal' time. They often have difficulty changing their timetables. Their nurturing ability, stamina, and understanding are constantly tested. Discipline is instilled when they burn a large part of their hours outside.
Financial Issues
Being a single mother is difficult both ways. The issue is emotional or financial they suffer both. Our NGO for single mothers has to listen to the story of the lady. Where she described that after the death of her husband families income became zero. As she was a homemaker from starting she faced a lot of problems in fulfilling the needs of her family.
Difficult society questions to answer
Sometimes, it becomes very tough for single moms to answer their children. About what happened to their father or why he is not living with them? Answering all this to their child may be easy but we live in a society where society matters a lot. Society asks many questions about single moms which are very difficult to answer.
You can see our success stories on our website. You can get daily updates from our official social media sites. Like Facebook, Instagram, Twitter, and LinkedIn.